Please see this blog post for information about changes to our service due to COVID-19.
Mini USB PKI Token
In stock for same day dispatch (if ordered before 12pm UK time).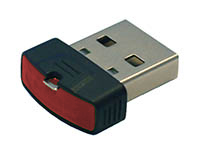 Secure storage of personal identity information, digital certificates and private keys in a tiny keychain-sized USB key.
This token can have custom applets loaded.
Key features:
Onboard key-generation, digital signature and crypto operations
PKCS#11
Onboard RSA, ECC, AES, SHA-1, SHA-2
X.509 Certificate Storage
32KB memory
Click here for full specification