Categories | Dinkey Accessories | Foam Insert for Dinkey and Dinkey Pro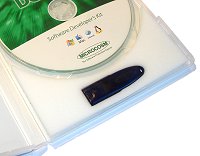 These foam inserts are designed to hold your USB Dinkey or Dinkey Pro dongle in a standard DVD case. Features:
Made from LD33 Plastazote for a professional look
Self adhesive backing
7mm thick
White*
N.B. Dongle and DVD case not included. Foam inserts are not suitable for Dinkey FD or Dinkey Pro Mini dongles.
* for other colours, please contact us.