A22CR Java Smart Card
In stock for same day dispatch (if ordered before 12pm UK time).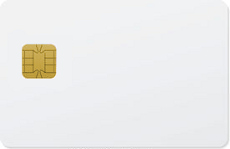 Java Card™ Smart Card supporting contact-chip and contactless operation.
Features:
Java Card™ certified
GlobalPlatform™ certified
Contact chip
Contactless (NFC)
Public key cryptography (encryption and digital signatures)
Symmetric key cryptography
Signature generation/verification
Specification
Total NVM: 400 KB
Total RAM: 8 KB
User NVM: 138.5 KB
User RAM: 1.84 KB
Chip: Infineon SLE78CLFX4000PM
Chip Certification: CC EAL6+, EMVCo
FTJCOS Certification: FIPS 140-2 Level 3
If you have any specific requirements for the functionality of the cards please provide details in the Notes field when placing your order, or contact us first.