Please see this blog post for information about changes to our service due to COVID-19.
FIDO U2F Security Key (USB & NFC)
In stock for same day dispatch (if ordered before 12pm UK time).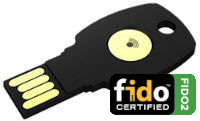 Our FIDO U2F security keys are compact USB devices that enable secure login to supporting websites and applications. They are the solution to problem of weak passwords, hacking, phising scams and keyloggers.
FIDO U2F security keys are driverless and work under Windows, Mac OSX and Linux.