Please see this blog post for information about changes to our service due to COVID-19.
Time-based OTP Display Card
Due to the ongoing coronavirus pandemic, manufacturing capacity for this product is currently reduced. For order quantities greater than 760, please contact us to discuss lead times before placing your order.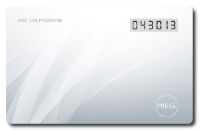 An OATH TOTP token in a credit card size form factor.
This TOTP display card features a clear, easy to read EPD display and a single button on the front.
Key features:
OATH TOTP (RFC 6238)
SHA-1
60 second timestep
6 digits
EPD display
The TOTP cards can be customised with your own design printed on the front and back. Click here to select customisation.
OTP returns policy: Click here to view