Please see this blog post for information about changes to our service due to COVID-19.
Event-based OTP Display Card
This item is currently out of stock. Please contact us to discuss lead times before placing an order.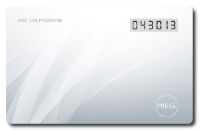 A very convenient credit card sized OATH HOTP token.
This HOTP display card features a clear, easy to read EPD display and a single button on the front.
Key features:
OATH HOTP (RFC 4226)
SHA-1
6 digits
EPD display
The TOTP cards can be customised with your own design printed on the front and back. Click here to select customisation.
OTP returns policy: Click here to view