Categories | FIDO Security Keys
Feitian ePass FIDO2, U2F Security Key (A4B)
In stock for same day dispatch (if ordered before 12pm UK time).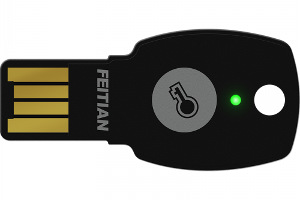 The Feitian A4B FIDO2 Security Key is the simplest, most cost-effective way to protect users identities online.
This USB security key has been engineered to provide the most secure two-factor authentication for both employees and individuals. Businesses can easily protect their employee accounts from from threats including phishing scams, hacking and keyloggers.
Key features:
2FA/MFA security key
FIDO2 & FIDO U2F certified
Protect unlimited accounts
USB-A